Issue 54 - August 17 - October 25 2022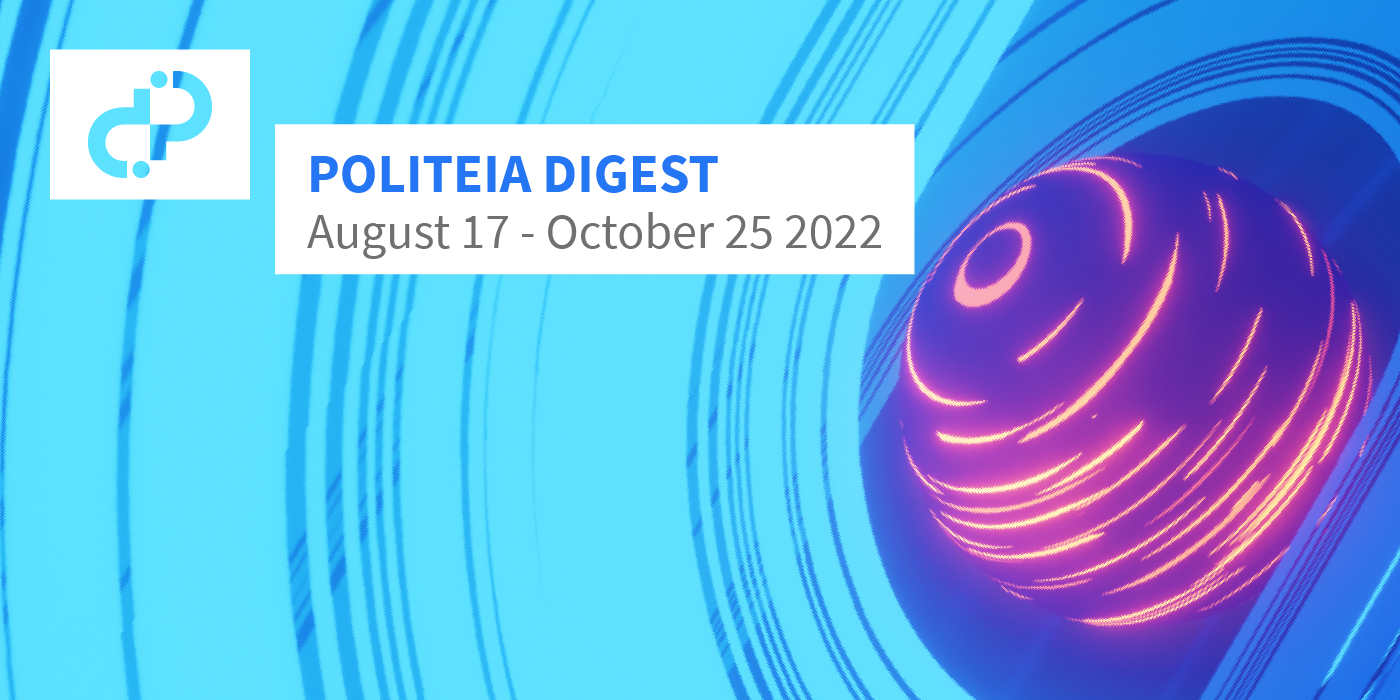 Treasury balance: 823,037 DCR (approx +8,629 DCR/month) - $22.3 million (+$234K/month) based on $27.11 DCR price
New proposals
Published Oct 19 by coinshuffle_bot | 4 comments
This proposal requests $1,955 for work which has been done on reviving the @dcrtimestampbot Twitter bot which archives tweets where it is mentioned in IPFS and timestamps them in the Decred blockchain. The bot was last active in January 2022.
The proposal is from whoever is running the @StakeShuffle_ Twitter bot (which has two approved proposals now), they were contacted by @tiagoalvesdulce to help addressing some issues with the bot and re-wrote the original JavaScript code in Python. New version of the bot can be tested by interacting with the test account on Twitter, and a web front-end was also added where users can look up their timestamped tweets. New Python code is available on GitHub under a MIT license.
Most of the cost of the proposal is in 48 hours of work charged at 35 USD per hour.
@tiagoalvesdulce commented on the proposal to say it has their support and the cost is reasonable.
Approved proposals
Decred PR Proposal - Phase Four
Published Oct 1 by lindseymmc | 6 comments
Final voting figures: 66% Yes votes, 59% turnout of eligible tickets.
This proposal requests $48,000 for another year of PR services, up to $4,000/month from $3,500/month previously, reflecting increases to rates and scope. The expanded scope relates to helping out with Decred Magazine. Lindsey maintains a list of all the press coverage which has been generated by the first 3 phases of the PR proposal.
The proposal was approved in a vote which concluded on Oct 21, with an approval rate which is much lower than for the previous proposal (97%).
Published 4 August by jy-p | edited 11 August | 28 comments
Final voting figures: 97% Yes votes, 59% turnout of eligible tickets.
Recap: This proposal presents a new look and messaging for decred.org, showcased on a staging server by @jholdstock.
Some background: In September 2020 an RFP proposal was submitted by @richard-red and approved with 85% Yes votes - but none of the four candidate proposals which were submitted managed to reach the 60% approval threshold. The closest proposal to the threshold was D.R.E.A.M. by @jz with 48% approval and turnout of 11,686 votes (comfortably over the 20% quorum threshold).
Following the failure of any of the messaging RFP candidates to pass in September 2020, @jy-p was not satisfied with how the RFP process went and, rather than repeat a similar process to revise the messaging now, has worked with @jz, @jholdstock and @saender to prepare a refreshed and simplified website for decred.org.
Updates
@lukebp posted an update on the Politeia 2022 Q1 proposal announcing that the site was updated to v1.4.0, with most of the work going into the importing of legacy Git backend proposals into Trillian, along with some new features like allowing edits to comments within 5 minutes of their posting.
As a consequence of the import, legacy Git proposals have different tokens in the new database, but redirects have been set up to keep old links working. Additionally, each legacy proposal has a notice directing to the old Git repository hosting all original data, including signatures and timestamps (which were not imported).
About this issue
Content for this edition was authored by @richardred with additions from @bee.
Image credit: @sænder